[et_pb_section fb_built="1″ _builder_version="3.29.3″ fb_built="1″ _i="0″ _address="0″][et_pb_row _builder_version="3.29.3″ _i="0″ _address="0.0″][et_pb_column type="4_4″ _builder_version="3.29.3″ _i="0″ _address="0.0.0″][et_pb_text _builder_version="3.29.3″ hover_enabled="0″ _i="0″ _address="0.0.0.0″]
At Gallagher's Rug and Carpet Care, we have all sorts of rugs brought to us with stories just as beautiful as the pieces themselves. We are honored to be trusted with those treasures and it is not a job we take lightly. We recently had the opportunity to get to know a client who trusted us with her heirloom rugs for their first clean in nearly 75 years.
Rugs – The American Classic
Rag rugs are flat woven rugs that were woven in early America on handlooms. Rugs consisted of narrow strips of linen, cotton, or woolen cloth used as the wefts and held together by evenly-spaced warps. There is an incredible charm in these pieces of American textile art.
Starting with half of her collection, Margo Maris brought 8 rag rugs into Gallagher's, hoping to brighten up the pieces she so fondly grew up with. "They've never had dirt underneath them because of how tightly they're woven, but they've been walked on for 70-75 years so I figured it was time," she told us. Margo went on to share her story about her father's rug braiding hobby and the legacy left behind with an artform no longer practiced the way it once was.
Margo's father learned how to braid rugs from a Ms. Ana Layne on the East Coast and brought the skill more commonly practiced in the East, back to his Northwest home. "My father was too young for World War 1 and he was too old for World War 2, so instead he worked in the shipyards. He would spend his spare time braiding rugs as a way to decompress from the demanding life in the yards," said Margo. "I have this distinct memory of the smell of dog in our house, but I would go down to the basement and it was always wet wool hanging." Margo told us they would spend their Saturdays at St. Vincent's, shopping for rags and old suits that could be turned into any of the 32 rugs total that her father ended up making.
The 32 rugs were divided between Margo and her brother once their father passed, and she's been able to enjoy the 16 sturdy pieces in her home ever since. Thrilled by the face-lift Gallagher's was able to give her rugs, she brought in the second half of her collection in for us to clean. "Not only do the rugs look brighter, but so does the hardwood they're laying on now," Margo exclaimed.
As Margo came to pick up the last of her freshly-cleaned rugs, she carried in a small final treasure. At 8 years old, her father showed her the difference between the small and wide braid that Ms. Layne had originally showed him and Margo braided her own rag rug. She told us that Ms. Layne's great granddaughter still practices the art of braiding rag rugs and she hopes to pass hers on to those that will honor the quality pieces.
Margo Maris is a Portland native, having lived in one of the first half-dozen houses in Marywood Park. We've enjoyed getting to know Margo and see these treasured pieces brighten up and come back to life for her. Almost 75 years after being braided, we're proud to say these rugs look like they'll still be around for generations to come.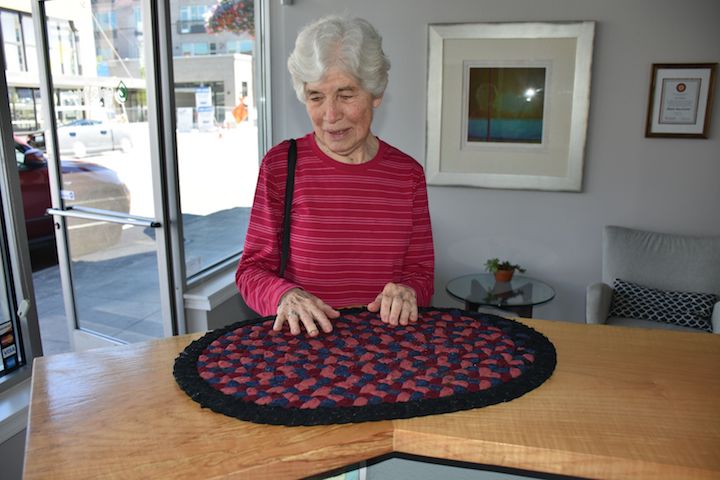 We love stories like these! If you've worked with Gallagher's and want to share your own experiences, please leave us a review on Google, Yelp, or Facebook.
[/et_pb_text][/et_pb_column][/et_pb_row][/et_pb_section]