We've all been there. When spring rolls around, you throw open the windows to invite the sun in — and that's when you notice the thick layer of dust on everything in the house.
After months of hiding out and keeping the house warm in the winter, now is the perfect time to freshen up your home with some spring cleaning.
Whether you're getting ready for your annual Super Bowl party, trying to keep your seasonal allergies at bay, or just want to give your home a little extra sparkle, these 9 spring cleaning tips will make you excited to spend time at home this year.
1. Air It Out
No one wants to let freezing winter air inside, but you're not going to want 90-degree July air in your house either! Here in Portland, spring is the perfect sweet spot.
Heating your home in the winter keeps you warm, but it can leave the air feeling musty and stale. Bring in some fresh air by opening up a few windows throughout the house. To get optimal air flow, open two windows at opposite ends of a room.
You may even want to set up a fan near a window pointing towards the outside to blow old air out.
2. Donate Items You Don't Need
It's much easier to clean a clutter-free home. Spring is a great time to get rid of stuff you don't need or want anymore — and make a tax-deductible donation in the process. Doing this at the beginning of spring will help you jumpstart your spring cleaning efforts and make future cleaning chores much easier.
If you want to avoid packing up the car or transporting big items, like furniture, Donation Town can give you a list of charitable organizations that do donation pick-ups in your zip code in and around Portland.
3. Clean Your Upholstery!
A proper upholstery cleaning can breathe new life into your favorite piece of furniture. It's the best way to get out stains, accumulated dirt, and odors without damaging your furniture. But remember, there's no one-size-fits-all solution when it comes to upholstery cleaning. Different fabrics and different stains require specialized approaches to produce the best results!
At Gallagher's Rug and Carpet Care, our expert upholstery cleaners can inspect your furniture and recommend a cleaning treatment that specifically targets:
Mud, dirt, and oil stains
Beverage stains
Pet odor and stains
Mystery spots and stains
4. Change Out Wintry Decor and Linens
Are you still using heavy blankets, flannels, or winter-themed decor? Why not opt for lighter, brighter decor and linens to match the season?
Light colors, flowy fabrics, and floral patterns are great choices. Spring is also a fun time for some new DIY projects. Here are a few things you can make:
Don't forget! Washing pillows or other upholstered pieces in the washing machine can cause shrinkage, dye bleed, or undesirable texture changes in the fabric.
5. Clean Your Microwave Easily with Lemon
If you're like most of us, you're probably not looking forward to tackling the kitchen, but here's a trick that makes cleaning the microwave quick and easy:
Grab a microwave-safe bowl and fill it with 50% water and 50% lemon (white vinegar works too). Microwave the mixture on high for a few minutes — until the liquid is bubbling but not boiling over. Then wipe the inside of the microwave with a sponge. You'll be amazed how easy it is!
6. Clean Miscellaneous Items in the Dishwasher
You might be surprised how much time and effort you can save by throwing a few surprising items in the dishwasher. Believe it or not, the dishwasher is safe for:
Refrigerator shelves and your microwave tray
Glass and plastic light fixture covers (unless they're really delicate)
Stove knobs and stove hood filters
Dish sponges
Your pet's food and water bowls
Small plastic or metal bathroom waste baskets
Toothbrush holders (they accumulate a lot of bacteria)
Soap dishes
The removable cup holders in your car
7. Bring in Flowers
Did you know that flowers and other indoor plants can actually make you healthier and happier? Research shows they can even reduce stress, lower blood pressure, and improve concentration. How? They purify the air, making your home smell clean and fresh.
Even just one plant will help, but scientists suggest you place at least one plant per 100 square feet of space for the most efficient air cleaning.
8. Clean Your Electronics
Electronic devices and components (like smartphones, tablets, laptops, and remote controls) are magnets for germs because we touch them so often.
To clean them without damaging them, invest in a microfiber cleaning cloth. Dampen it slightly with water and wipe all surfaces. You can add a bit of rubbing alcohol for buttons and plastic covers, but stick to just water for screens.
Canned air is another option for hard-to-reach nooks and crannies in computers and keyboards.
9. Rug and Carpet Cleaning
Many people don't realize how much dust, dirt, and germs accumulate in rugs and carpets throughout the year. A professional cleaning can make your rugs and carpets feel like new again!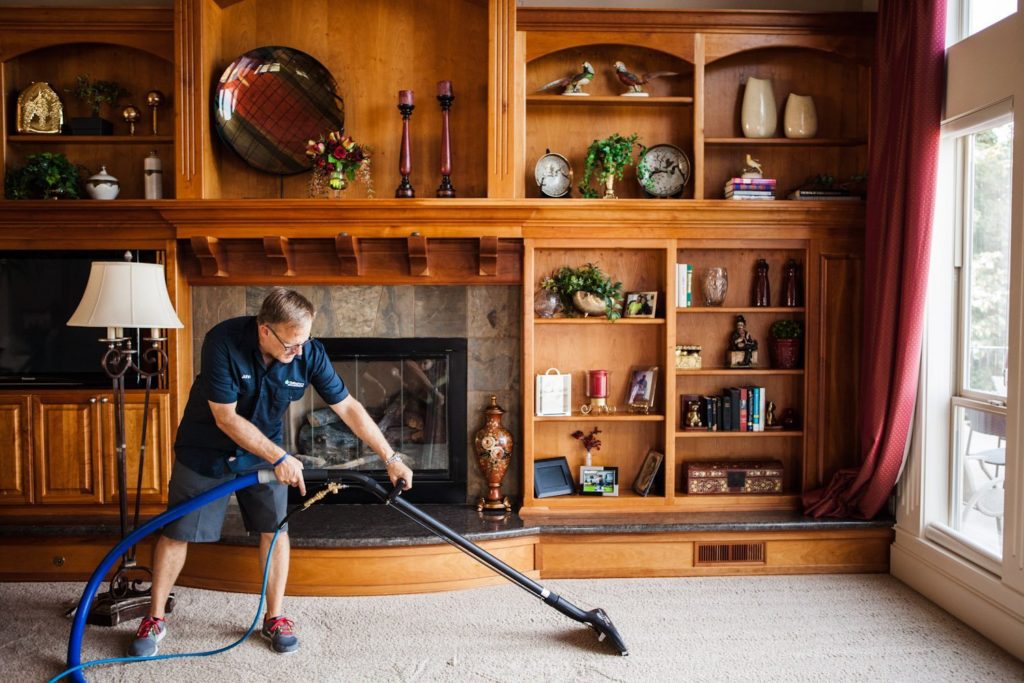 If you live in the Portland area, learn more about our rug cleaning and carpet cleaning services. Or, if you're ready for an appointment or free estimate email us at staff@gallagherscarpetcleaning.com or give us a call at 503.496.7508.
Photo credit: Living Rooms London, Emily May, Chalon Handmade