We have been lucky to get to know Yesim and Emre Taskin, owners of Wild Shaman Kilims & Rugs, the last few years and wanted to take a moment to highlight their wonderful presence in our community.
Wild Shaman is more than a rug shop. Emre and Yeshim have created a beautiful space to display turkish rugs and kilims and educate their customers about the intricate culture that is represented in the textiles. Each rug is of the highest quality, is affordable, and has a story to tell. That's why we always refer our rug clients to visit our neighbors at Wild Shaman.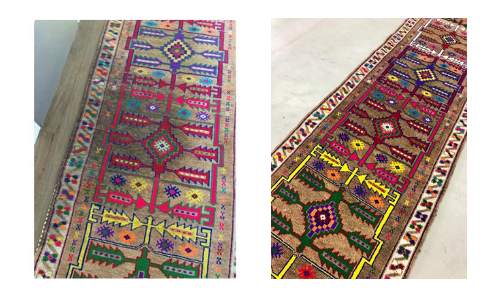 We love cleaning Wild Shaman rugs for two reasons: They are a pleasure to look at and the high quality of the rugs means they clean up very well. We recently cleaned an oil stain out of a wool runner that had completely saturated part of the rug. The dyes held up well in the cleaning process and the rug looks bright again!
If you are dropping off or picking up your rugs at Gallagher's, Wild Shaman is just a short walk away. They are located on the corner of SE 6th and Yamhill and are open 7 days a week. Wild Shaman 931 SE 6th Ave, Portland, OR 97214 (206) 300-8201 http://www.wild-shaman.com.