Of all the service professionals we decide to hire to tackle a project at home, we seem to be the least eager to reach out to a professional carpet cleaner. The hesitancy is understandable. Over the last few decades, the mainstream carpet cleaning industry has established a less than desirable reputation for itself with gimmicks, bait-and-switch tactics, and unremarkable customer service. The rentable carpet cleaner and "heavy duty" carpet stain treatments you can purchase at your local Fred Meyer were an attempt to put the power back in the hands of the customer. Unfortunately, this one-size-fits-all approach only caused more problems.
The good news is that there are locally-owned, expertly trained, and highly-rated companies that aim to exceed your expectations in caring for your investment in your home's carpeting. Here are a few things to keep in mind when deciding what to do with your dirty carpets.
A professional carpet cleaning service aims to be a solution to your problems
Professional carpet cleaners are trained to handle the staining, odors and traffic wear that inspired you to clean your carpets in the first place. They will know what to do, and more importantly, what not to do, while treating your carpets. A good company will also know when to recommend replacing a carpet when the potential results of a cleaning may not meet your expectations.
Relying on the internet for cleaning advice can make the problem worse
In many cases, we get calls from customers who have already tried several different methods of treating stains themselves. They are calling a professional because they have already tried 3-4 different combinations of baking soda, vinegar, Resolve, and OxiClean, and the stain still looks the same (or possibly worse with baking soda caked on). While the internet may have recommended each of these treatments individually, combining products in the same area can actually set a stain and make it impossible to remove, even with the best professional products and equipment.
As helpful as Google can be, it cannot see the stain or the carpet, which is necessary for effective treatment of the stain. For example, a wool carpet and a nylon carpet require different products and cleaning techniques to properly treat a stain. Instead, call a professional service first to see what they recommend.
Rentable carpet cleaning machines cannot effectively treat pet stains and odors
Before you rent a carpet cleaning machine to clean up after your puppy, consider calling a professional first. Rentable machines have notoriously poor suction and low water temperature, which will leave your pet stained carpets wet and soapy after a cleaning. This residual moisture often causes the problem to spread and absorb into the carpet pad, turning a few mild pet stains into a much bigger (and stinkier) issue than before the do-it-yourself cleaning. A professional carpet cleaning technician will arrive equipped with a powerful, truck-mounted cleaning system that can rinse and extract the pet stained areas instead of spreading them and potentially making the odor worse. Professional carpet cleaners that specialize in pet urine treatment (link to pet urine page) will also treat the affected areas with high quality enzymes to break down the urine and help release it from the carpet.
Hiring a professional will save you time and headache
Professional carpet cleaners have equipment, systems, and procedures to make the cleaning process as thorough and efficient as possible. A seasoned technician will spend much less time cleaning your carpets than you will trying to clean it yourself. The more powerful extraction (suction) on professional, truck-mounted equipment can remove 70-80% of the water applied to the carpets during the cleaning which will allow them to dry faster, so you and your family can go back to life-as-usual without waiting days for your carpets to dry. And old, set-in stains are less likely to reappear when your carpets dry quickly. This is especially important in carpeted basements where mold and mildew can develop easily. A more powerful rinse and extraction system also means that product residue is fully removed from the carpet. This will help leave the carpets soft and prevent them from resoiling quickly.
Professionals can apply Scotchgard protection to your carpets to keep your carpets looking cleaner, longer
We also highly recommend applying Scotchgard to your carpets to protect against everyday stains, spills, and wear from foot traffic. Most new carpet is pre-treated with stain protection but will wear off after a year or two of regular use, especially in highly trafficked areas like hallways, stairs, and entryways. The Scotchgard protection your carpet cleaning professional will apply is very different from what you can buy at the store and apply yourself. Store-bought Scotchgard is silicone-based, which can leave a filmy, sticky residue on your carpets and upholstery. The professional-grade Scotchgard is water based, which allows the protection to bind itself to the carpet fiber without any noticeable residue. A professional will also apply the Scotchgard using pressurized sprayers that ensure the scotchgard is applied thoroughly and evenly to the carpets.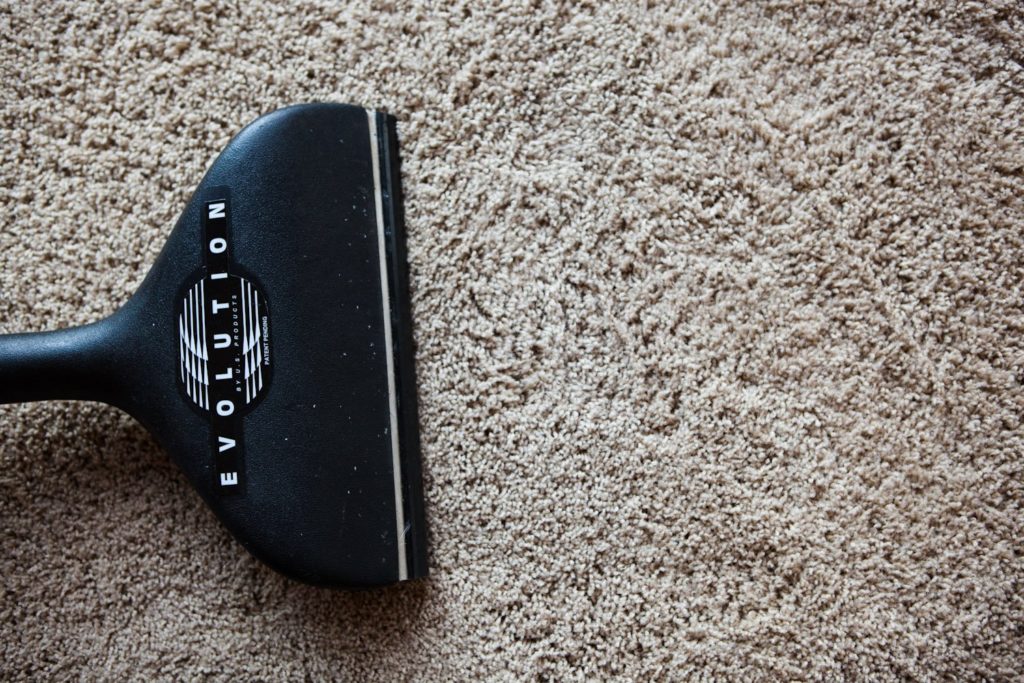 How do I decide between hiring a professional or doing it myself?
Whether you decide to hire a professional carpet cleaner or take on the project yourself, make sure the money you spend returns the most value. In most cases, hiring a professional will save you time and money in the long run. Do-it-yourself methods often cause more problems than they fix, so consider making a smarter investment in a professional service for better results and peace of mind.
Once you've decided to hire a professional, how do you know you are choosing the right company? Use the numerous resources the internet provides to help you find a trustworthy, quality company that cares about their clients and the work that they do. Ask about their satisfaction guarantees, and know that a trustworthy company will never make lofty promises. Compare prices but keep in mind that the old adage, you get what you pay for, usually holds true. Read reviews, ask for recommendations, and invest in a company that will take care of you and your carpets in the long run.
Looking for a professional carpet cleaner? Call Gallagher's Rug & Carpet Care in Portland for a no-cost consultation. We don't just clean, we care.