Everyone knows the old saying, "Looks can be deceiving." And that is true – unless you're able to dig deeper. In the case of rug identification, this means looking at the front AND the back of the rug. 
We just blew your mind a little bit, didn't we?
The two most difficult classes of rugs to distinguish between are hand knotted/hand woven and machine-made rugs. These two classes can be nearly impossible to distinguish from the face of the piece. 
To being, we must first talk about the differences in how the rugs are constructed. 
Hand knotted rugs are made the same way they have been for centuries, by hand on a special loom. The foundation of the rug is created by warp (top to bottom) and weft (left to right) cords, and wool fiber is knotted around these cords to create the pile of the rug. The quality of a handmade rug is typically determined by a measurement of knots per square inch, and the intricacy of the pattern and design. A large, fine wool rug can take years to produce, which can be reflected in the value of piece. 

A hand knotted rug is distinguishable by the irregularities in the knots, most easily seen on the back of the rug. You can distinguish the region of origin and era in which the rug was produced, by looking at the way in which knots are tied, the colors and patterns used.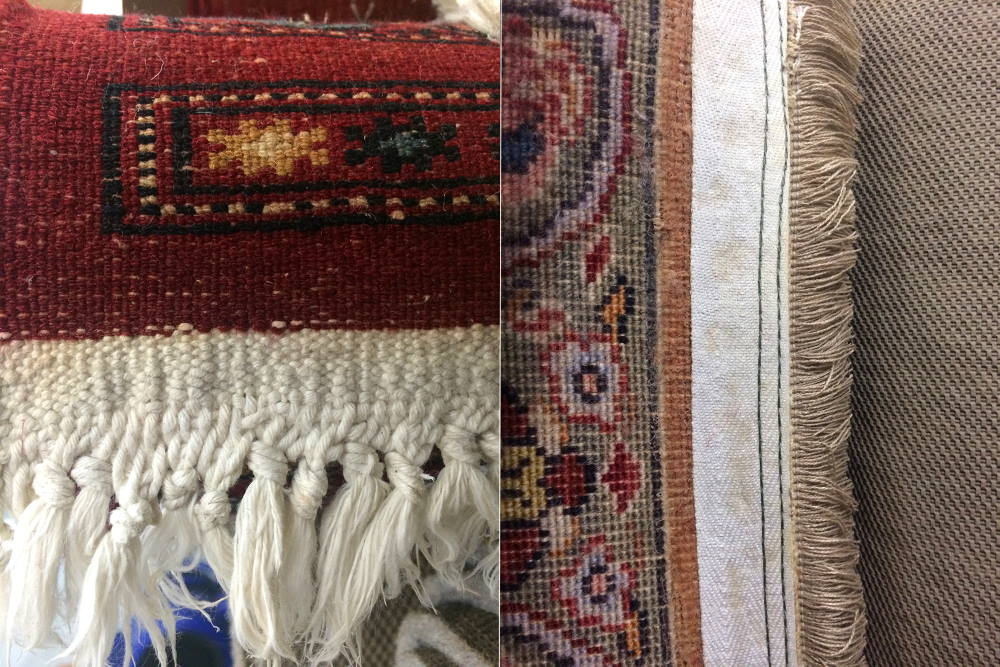 Sometimes, knots can be so perfect that an untrained eye would think the rug was machine made. When this is the case, we look at the fringe to definitively determine whether the construction of the rug. A handmade rug will have a fringe that is an extension of the warp cord in the foundation of the rug. A machined rug will have an attached fringe that does not originate from the foundation, and will typically be sewn adhered onto the rug. 

Machine made rugs are created on a power loom, which is computer programmed. Machine made rugs are produced at a much faster rate than hand made rugs, but they are usually not of the same quality and therefore do not last as long as a hand made rug. These rugs are distinguishable by the uniformity of the knots in the back of the rug, and are commonly composed of synthetic fibers. 
Now you're probably asking yourself, "Which rug should I choose?" The answer to this question depends on your lifestyle and budget. 
Handmade rugs:
Last longer. A well-made rug can be an heirloom if it is properly maintained – a thorough cleaning every other year is a critical part of maintaining your rug. A machine made rug will only last a few decades, but a hand made rug can last a few lifetimes. 

Hold their value. In comparison to machine made rugs, a hand made rug can actually become more valuable over time. 

Are not necessarily compatible with pets and small children. Stains and pet urine/odors can be more difficult to remove from a hand made rug than in a machine made rug. 
Machine-made rugs:
Are affordable for most budgets. This style of rug is more accessible to everyone who may not be willing to invest in an heirloom piece, but still want a rug to add style and warmth to your home.

Are at less of a risk of dye bleed. Most machined rugs are made of synthetic fibers, or have wool fibers with set dyes. This can help the rug be more responsive to cleaning when treating for urine issues and stains.

Are not meant to last a lifetime. Repair costs usually exceed the value of the rug when repairs are needed. Since the quality of these rugs is usually inferior to a hand made piece, they are not meant to last more than a few decades. 
The process of choosing a rug to own is a marathon, not a sprint. Let Gallagher's help you along your journey. 
Our knowledgeable staff is available to discuss options with you from a maintenance perspective before you make a huge investment. You can also visit our website to learn more about the process we use to maintain your area rugs and heirloom pieces, or give us a call at (503) 477-4097 for a quote on cleaning or to learn more about our lifetime-gaurenteed repairs.