Just imagine: Your in-laws are coming for dinner this weekend. You suddenly realize the kids have waged a grape juice war against the living room carpet, and somehow created a runway of muddy footprints in the hallway, too.
What else could go wrong? Uh-oh. Fido has been using the dining room rug you inherited from your grandmother as his personal back scratcher.
As you're on your third trip to the grocery store this week, you think you've found the answer to all of your problems. It's red, familiar, and fits in the back of your car… and it's named to make you believe it will "cure" your rug and carpet woes.
Unfortunately, this little machine does not live up to its name and its promises.
In today's post, we'll debunk some of the more common myths surrounding rental carpet cleaners. We'll also help you understand why professional carpet cleaners are worth their weight in gold (well, almost).
Myth: Grocery store rental carpet cleaners actually work.
Fact: They don't. Here's why.
The carpet and rug cleaning machines used by the pros have much more horsepower than the tiny motors inside a rental machine. This means more suction (also called lift) to extract soil and stains that have built up over time.
Additionally, the "hot" water coming out of the rentable machines may not actually be "hot".
A professional carpet cleaning system is designed to use water between 160 and 230 degrees Fahrenheit, and is adjusted based on the composition of the carpet being cleaned. This ensures that you're getting the best cleaning possible without risking damage to the carpet.
Myth: My carpets aren't fancy enough to need professional carpet cleaning.
Fact: Almost any carpet can benefit from professional care.
An honest and experienced carpet cleaning company should be able to give you realistic expectations about what you can expect from their services. Granted, there is a point at which a carpet is not worth cleaning, but it's definitely worth getting a second opinion before you invest thousands in new carpeting.
Myth: Rental carpet cleaning machines work on all stains.
Fact: Rental machines aren't one-size fits all.
The rental machine station at the grocery store has one shampoo that is supposed to work on any stain. As you can imagine, red stains, traffic lanes, and dog odors are very different problems that require different solutions. One size definitely doesn't fit all.
A professional carpet cleaner comes prepared with specialized products formulated to work on specific stain and odor issues. And an experienced professional will know which products to use on your stains and how to use them properly.
Myth: I can use a rental carpet cleaning machine on my heirloom rug.
Fact: Rental carpet cleaners aren't made for rugs! Why would you trust them to clean a family heirloom?
We don't just clean carpets – we have a state-of-the-art rug facility as well, and know that the last thing you EVER want to do is use a carpet cleaning machine on an area rug that means a lot to you.
We've seen dozens of rugs pass through our doors with color bleed (when the dyes in a rug run together) and set in stains, caused by using a rental carpet cleaning machine. Both of these are nearly irreversible issues.
A rental machine's low-power suction leaves too much water on the rug, which creates a pathway for the dyes to travel on and collide. Once the rug dries, the dyes stay where they are, and the beautiful patterns turn into a muddled mess. The products provided with the rental machine are not designed for rugs – they are designed for carpets.
Using these products, or any other stain remover designed for carpet, on your rugs can cause color loss, subtle bleaching caused by harsh detergents, and can set the stains you are trying to remove.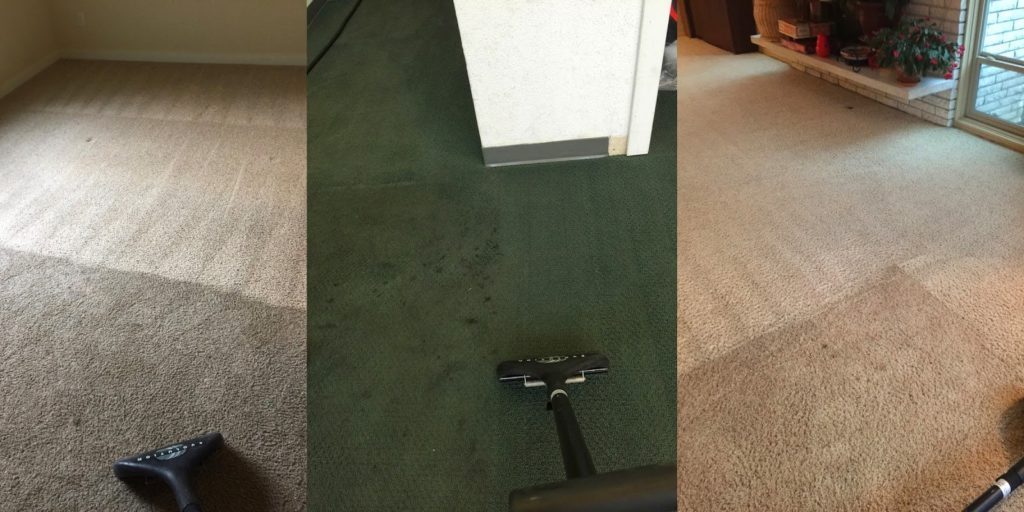 Myth: Rental carpet cleaning machines are the best value.
Fact: You'll waste less time and money in the long run if you hire professional carpet cleaners.
If you rent a carpet cleaning machine, you may actually end up spending more of your time and money and getting only marginal results in return. Chances are, you won't be happy with the results once the carpets dry, so you go back and rent the machine again. And buy another bottle of shampoo. And get the expensive stain remover this time, because spending more money means it will work better, right?
At this point, you have more than doubled your initial investment. And you had to clean it yourself. Twice.
Two weeks later, you walk into your living room and realize that the traffic lanes look worse than they did before you cleaned them. In fact, everything looks just as bad and the carpet feels kind of crunchy.
Well, the insufficient suction and not-so-hot water in the rental machine didn't properly extract the shampoo. Plus, leftover cleaning products that weren't washed away clean acted as a magnet (or attractant), holding onto everything it came into contact with after the cleaning. This can make your carpet seem dirtier than it was in the first place!
A professional carpet cleaner will have tools with the the proper amount of suction and the training to know how much product to use and how to get it out of your capet. After a professional cleaning, your carpets should feel soft, look great, and stay that way for a while.
And you had someone else clean it for you. Once.
Need a carpet cleaned right– the first time?
There is a reason most professional carpet cleaners use a truck-mounted, hot water extraction system. A little red rental machine can't tell you exactly what your carpet needs, or doesn't need, to look great.
Only an experienced and certified technician, with the right products and the right tools, can make your carpet or rug look its best.
Give us a call at (503) 477-4097 and set up an appointment.
We promise you'll never want to rent a carpet cleaning machine again!