Why is carpet cleaning an essential service? Because maintaining a clean home is essential for our sense of safety, comfort, and overall well-being.
As a homeowner or renter, you aren't expected to solve every in-home problem that arises. You can troubleshoot, but you probably won't try to tackle every electrical short, water heater leak, or hole in the roof all on your own.
The same is true of carpet cleaning. Sure, you can easily blot up a minor water or soda spill. But what if you have naughty pets, or your best friend spills a full glass of red wine, or your kids' muddy shoes keep pushing soil and debris deeper and deeper into your carpet? At Gallagher's, our technicians are specially trained to help solve those problems without damaging your carpet, keeping you healthier, safer, and more comfortable.
Regular cleaning with hot water extraction helps prolong the life of your carpet while reducing allergens and preventing soil build-up. DIY carpet cleaning methods are not as effective and can cause permanent damage to your carpet and carpet padding. Every time Gallagher's cleans your carpet, we use fresh water from your own home and a fresh mix of products specially selected for your carpet's needs. Our truck-mounted system heats the water to 180-220°, helping kill bacteria that have settled into the pile. The dirty water and cleansing agents are then thoroughly extracted, which prevents mold-causing moisture from becoming trapped in the padding.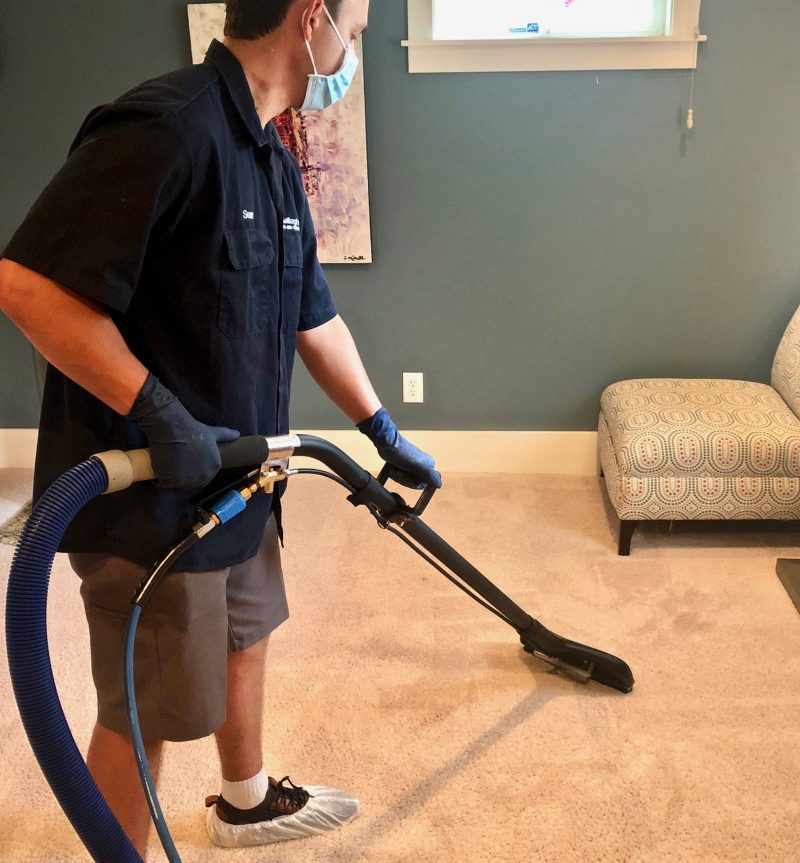 Throughout the pandemic, we have adapted our essential services to keep your in-home cleaning experience safe and worry-free. All our technicians will be wearing masks, gloves, and shoe covers while they are working in your home. We request that you wear a mask or face covering when interacting with the technician. We will be maintaining a distance of at least 6′ during the appointment, and we ask that you do the same. We prefer the rooms and areas we are working in to be clear of people during the appointment. Contactless credit card payment is available and encouraged. We can also process payments over the phone with our office.
Thank you for supporting local small business and essential workers during this time. Our collective safety is at the forefront of what we do, and we're here to serve you.